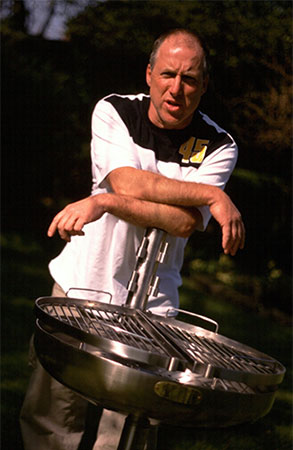 'The origins of Black Forge BBQ's lie in an old farm building deep in the heart of rural Kent, where Rod Fender, design engineer, artist blacksmith, creator and displaced itinerant Northerner built a forge and began designing and manufacturing an impressive range of iron and steel artwork.
His enthusiastic and original approach rapidly led to plenty of orders and an extensive, continually growing collection of ideas and designs.
In the early years, Black Forge manufactured bespoke forged signs, weathervanes and garden gates.
The first prototype Barbecue spent several years based in the back garden. (The birth of our now, unsurpassed 'Ikon') But it regularly travelled back and forth to our Black Forge workshops to be modified and improved, expanding on the original design concept of a cooking grill that could swivel horizontally on and off the heat as required. We were persuaded to make a few barbecues for sale, initially to friends and family - and cheaply of course! However, their enthusiasm and feedback was invaluable to the barbecue's continuing development and in 1993 we began commercially manufacturing 'The Ultimate Barbecue range'.
Over the last ten years its evolution has born several variations out of our original design. These we proudly present over this website. Black Forge barbecues are real barbecues, designed, tested and allowed to evolve through use and abuse by ourselves and other barbecuing enthusiasts. They are all heavily engineered, solid, stainless steel constructions, made without compromise and designed to last.
Black Forge barbecues last a lifetime, not only owing to their rugged construction but also due to the extensive use of stainless steel in their manufacture. Stainless steel being unaffected by adverse weather does not rust or deteriorate, ensuring you can barbecue each year, every year, all your years.
Black Forge Barbecues are all solid fuel burning, free standing, fool proof, chef friendly, safe, attractive, portable, dismantle-able, functional, versatile, beautiful, loveable and will be the focal point of any barbecue gathering.
Meanwhile, our small, rural, family orientated Black Forge world keeps steadily revolving, so far untroubled by turbulent global financial climates, the dodgy dealings of big global corporations and climatic calamities induced by global warming, and in its own plodding but satisfying way keeps going from strength to strength, - long may it continue so.'
To view our artwork website, click here