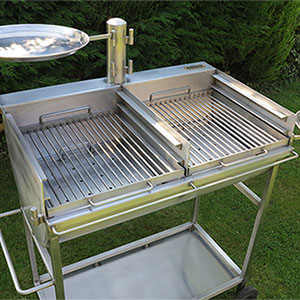 Many is the time we have listened to happy reminiscences about an old forty five gallon oil barrel based barbecue. Roughly home made, uncontrollable, rusty, black, greasy and less than hygienic. Yet the memories it re-kindles are always of good times with good friends, good food and probably a good few drinks! It satisfied that hunter-gatherer, meat and fire urge in a way that today's high tech, sterile barbecues cannot.
Combine the traditional simplicity of an oil barrel barbecue with a touch more versatility in the form of two grills, adjustable through three levels. Add the Black Forge post and swivel pins concept. Dispense with rust by making the entire barbecue out of heavy gauge stainless steel and you have the Black Forge Barrel.
Offering 50% more cooking area than the Ikon, it is consequently the choice of traditionalists, caterers and those with lots of hungry friends!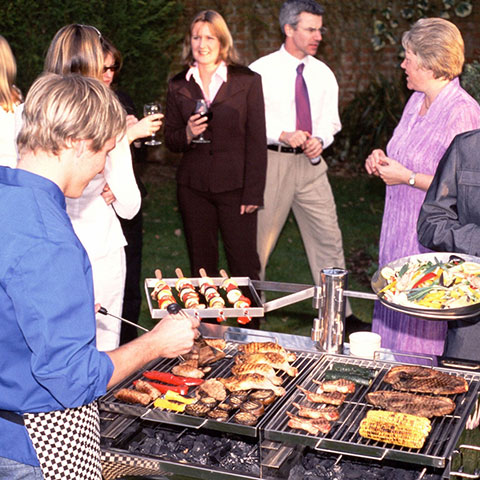 The Barrel as shown consists of:
- 1/2 barrel base with 2 x side swivel pins (optional), back post with 4 x swivel pins and full width bottom shelf (optional). All professionally tig welded as a complete construction.
- 2 x grills 46cm x 46cm
- 2 x charcoal trays
- The 1 x back post has 4 x swivel pins, with 2 height cooking levels for pans and extras (optional).
- 1 x 14" diameter frying pan
- 2 x removable grease catching trays
- Stainless steel throughout
- 2 x wheels
Please Contact Us to confirm your order.
From £2,895.00