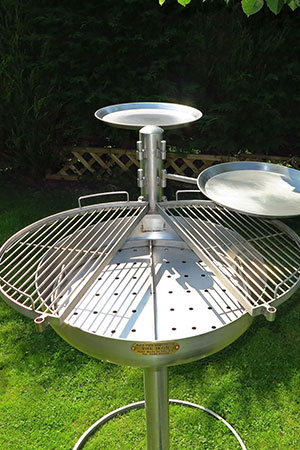 The Ikon barbecue perfectly represents our continuing quest for the ultimate barbecue. Its unique extremely practical design caters for a wide range of barbecuing techniques adopted by both professional and amateur alike.
In essence the principle is that any food being cooked on any surface over the burning charcoal can be swivelled on or off the heat through a horizontal plane on one of three heights via the ride pins on the back post.
The main grills and griddles being semi-circular also allow the simultaneous, split level cooking of different food types.
Its build quality is un-surpassed in the barbecue world through the exclusive use of extremely heavy gauge stainless steel throughout its construction. As such it can be left outside, unattended, indefinitely without fear of deterioration while the sheer engineering excellence makes it indestructible in normal use. As such it comes with a lifetime guarantee.
An Ikon by both name and nature it has become a barbecue design classic with its contemporary styling also bringing a high degree of visual desirability. A barbecue for your friends and family to aspire to.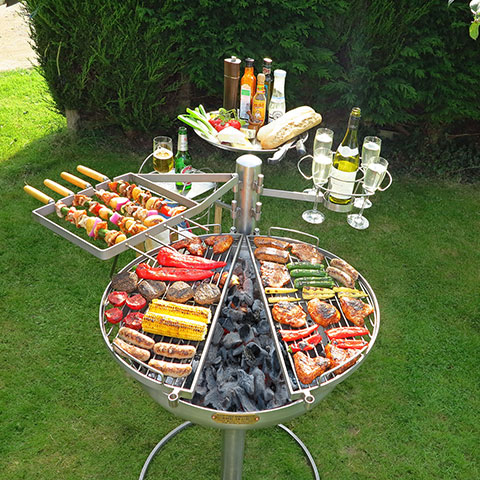 Your Standard Ikon Will Consists Of:
- Main bowl, central post, base and top post with 9 x swivel pins. All professionally tig welded as a complete construction.
- Charcoal tray
- 2 x semi-circular cooking racks of 24" diameter
- Cooking height adjusts from 82-102 cm
- 2 x 14" diameter frying pan/drinks tray
- Stainless steel throughout
£2,295.00