The Ikon barbecue, throughout our website has been photographed, occasionally, with additional extras. All our standard barbecues are supplied with the components listed under their description. However, a wide range of optional extras are available which allow total customisation to your barbecuing needs, plus the ability to add on to your standard barbecue at the time of order or at a later date. As manufacturers, we also offer a repair or replacement service if required.
All listed extras below are suitable for the Ikon Barbecue, with corresponding prices.
Remember, we make our barbecues and accessories by hand, so if you have your own idea or design, then get in touch – we will make it for you!
---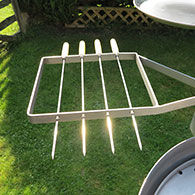 Kebab Rack
A barbecue favourite, but with all grills, most of the skewer's contents usually get left stuck to the bars! Our solution is a square swivelling frame with grooves and holes to securely locate four skewers which can be freely rotated for non-stick and even cooking. The entire rack can also be swivelled on or off the heat as required - a simple solution to a frustrating problem that works!
£145.00
---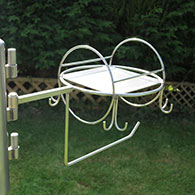 Doobrie
Our most popular extra at time of order – it's a sort of swivelling multi-purpose tray / holder / hook 'thingy' for utensils, oven gloves, tea towels, kitchen roll dispensing, chefs private drinks tray etc.
£195.00
---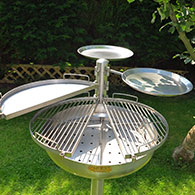 Griddle
Same size and shape as the standard cooking grills for symmetry and interchangeability, but with a very heavy gauge, solid stainless steel base for cooking onions, tomatoes, skinny sausages etc. or, even your breakfast bacon and eggs. Complete with swivel rings on both sides for complete flexibility.
£155.00
---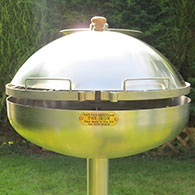 Lid
A 24" diameter domed stainless steel lid with handle. It instantly converts our barbecues from grill to oven type cooking.
£295.00
---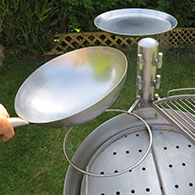 Wok Ring
A larger than household size, stainless steel wok ring. Great for stir fried vegetables, rice, paella, boiling, vegetables etc. Wok not included.
£55.00
---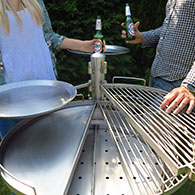 Extra Grill
The standard Ikon comes complete with 2 x cooking grills, however, if you feel you can manage three (or four!) on the go, then get another!
£195.00
---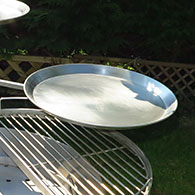 Trays
A swivelling shallow pan suitable for cooking, keeping food warm, drinks and condiments tray. Your standard Ikon comes complete with 2 x shallow trays, however, if you require some extra storage then you may need another.
£75.00
---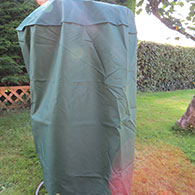 Cover
Waterproof polyester cover (you don't need it, but can help keep everything tidy and dust free.
£40.00
---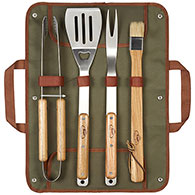 Utensils
High quality, stainless steel barbecue utensils
£40.00
---